USAAF
20th AF
509th CG
509th BS

USAAF August 9, 1945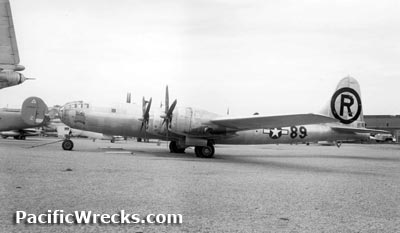 USAAF 1945



Justin Taylan 2000

Aircraft History
Built by Boeing as a B-29-35-MO Superfortress at the Glenn L. Martin Aircraft Plant at Bellevue, Nebraska. One of fifteen B-29s modified as a silverplate and re-designated "Block 36" as a model B-29A-40-MO Superfortress. Delivered to the U.S. Army on March 19, 1945. Assigned to crew C-13 including:

Aircraft Commander  Captain Frederick C. Bock, Greenville, MI
Co-Pilot  1st Lieutenant Hugh Cardwell Ferguson, Sr., Highland Park, MI
Navigator  1st Lieutenant Leonard A. Godfrey, Jr., Greenfield, MA
Bombardier  1st Lieutenant Charles Levy, Philadelphia, PA
Engineer  Master Sergeant Roderick F. Arnold, Rochester, MI
Assistant Engineer  Sergeant Ralph D. Belanger, Thendara, NY
Radio  Sergeant Ralph D. Curry, Hoopeston, IL
Radar  Sergeant William C. Barney, Columbia City, IN
Tail Gunner  Sergeant Robert J. Stock, Fort Wayne, IN

Wartime History
During April 1945, flown to Wendover Army Air Field, Utah. Afterwards, nicknamed "Bockscar" a play on Bock's surname with the nose art of a flying box car over rail road tracks. On June 11, 1945 departed Wendover Army Air Field on a ferry flight to North Field Airstrip on Tinian Island arriving five days later.

Assigned to the 20th Air Force, 509th Composite Group, 393rd Bombardment Squadron with victor number 7. During June to July 1945, this B-29 flew thirteen training missions plus three combat mission over Japan including attacks three combat missions in which it dropped a pumpkin bomb (non-nuclear replication of the "Fat Man" bomb) against Niihama and Musashino.

On August 1, 1945 the victor number was changed to 77 and painted in black on the sides of the nose. The tail was given the triangle N markings of the 444th Bombardment Group (444th BG) as a security measure to give the appearance of a conventional bomber.

On August 9, 1945 this B-29 was loaded from Atomic Bomb Pit No. 2 with the plutonium bomb nicknamed "Fat Man". For the mission, this B-29 was flown by aircraft commander Major Charles W. Sweeney with crew C-15 usually assigned to B-29 "The Great Artiste" 44-27353:

Aircraft Commander  Major Charles W. Sweeney, North Quincy, MA
Co-Pilot  Captain Charles Donald "Don" Albury, Miami, FL
Regular Co-pilot  Second Lieutenant Frederick "Fred" J. Olivi, Chicago, IL
Navigator  Captain James F. Van Pelt, Jr., Oak Hill, WV
Bombardier  Captain Kermit K. Beahan, Houston, TX
Engineer  Master Sergeant John D. Kuharek, Columbus, NE
Assistant Engineer  Staff Sergeant Raymond C. Gallagher, Gunner, Chicago, IL
Radar  Staff Sergeant Edward K. Buckley, Lisbon, OH
Radar  Sergeant Abe M. Spitzer, Bronx, NY
Tail Gunner  Sergeant Albert T. "Pappy" DeHart, Plainview, TX
Took off at 3:49am from North Field Airstrip on Tinian Island. After take off it flew to a rendezvous point to meet two other B-29 "The Great Artiste" 44-27353 piloted by Captain Frederick C Bock (who has exchanged planes with Sweeney for the mission) and B-29 44-27354 piloted by Major James I Hopkins. At the rendezvous point, Hopkins bomber did not arrive in time. The pair waited for an extra thirty before proceeding together.
Although B-29 "Enola Gay" 44-86292 had flown a weather reconnaissance mission over the primary target Kokura reported it as clear, by the time both B-29s arrived, the target was obscured by smoke from the bombing of Yawata. Ordered to drop the bomb visually and not by radar, "Bockscar" made three unsuccessful bombing runs then diverted to the secondary target Nagasaki.
Over Nagasaki at 28,900' at 10:58 local time, the "Fat Man" atomic bomb was released at 11:01am and exploded 47 seconds later. The Japanese estimated 24,000 were killed, while U.S. estimated about 35,000. Afterwards, all three B-29s landed at Yontan Airfield on Okinawa, refuel then took off again and return to North Field Airstrip at 23:39.

Postwar
Afterwards, flown back to the United States. On September 11, 1946 placed into storage at the Davis-Monthan Museum with fuselage code "89" with tail circle R.

Display
On September 26, 1961 delivered to the USAF Museum and displayed at the World War II aviation hanger with a replica "Fat Man" atomic bomb.

References
USAF Serial Number Search Results - B-29-35-MO Superfortress 44-27297
"27297 to the Martin Modification Center, Omaha, NB, for Code Silverplate conversion for the carriage of atomic weapons. Field number 77. Assigned to 393rd Bomb Squadron, 509th Composite Group. Was "Bockscar"--the Nagasaki bomber Aug 9, 1945. Attached to 509th Composite Group, 393rd Composite Squadron, Roswell,NM: Davis-Monthan to CL-32 (Museum) 11 Sep 1946. Delivered to Wright Patterson AFB Sep 26, 1961. Now on display at WPAFB Museum."
Contribute Information
Are you a relative or associated with any person mentioned?
Do you have photos or additional information to add?
Last Updated
November 9, 2019

B-29